Airbag Injury Lawyer in San Antonio, TX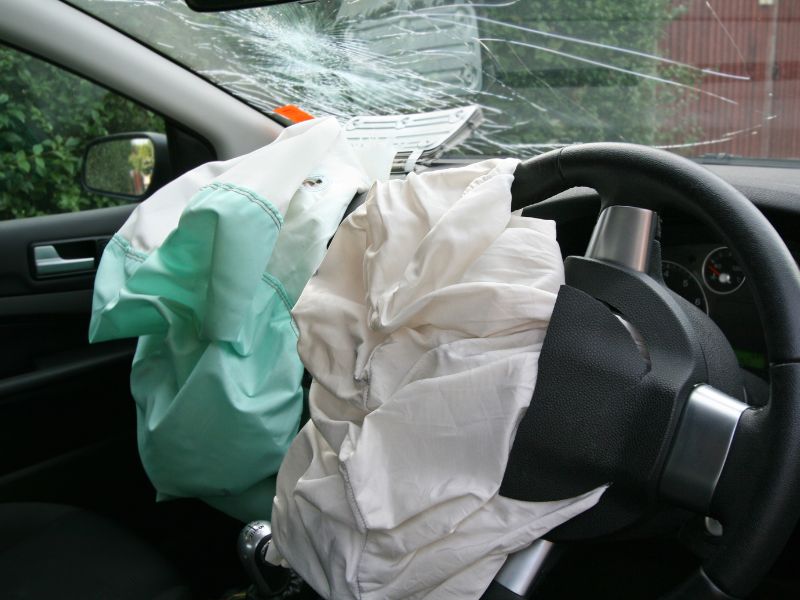 While airbags save lives, they are also dangerous if they malfunction, deploying with explosive force that can spray metal shards, crack bones, and cause head injuries. Tens of millions of vehicles with unsafe airbags have been recalled due to manufacturing defects. If you have suffered an airbag injury, you may be entitled to seek compensation. Pursuing compensation could be difficult without the help of a San Antonio car accident lawyer who understands the complexities of defective airbag cases.
At the Law Offices of Troy A. Brookover, we can help you understand your rights to file an airbag injury claim. You should not have to pay the price of an airbag injury that was not your fault. Let us stand up for you and demand that the airbag manufacturer compensate you for the harm you suffered. We have stood up for thousands of Texans throughout our 30 years of legal service. We will handle your case without any upfront costs and only charge a legal fee if we secure money for you.
Speak with an airbag injury lawyer in San Antonio about your case. Call 210-941-1515 or fill out our online form.
Common Causes of Airbag Injuries
Sometimes, airbags fail to deploy correctly or fail to deploy at all because of a manufacturing defect or design flaw. Defective airbags can deploy with violent force.
More than 67 million defective airbags manufactured by Takata Corporation have been recalled because the airbag inflators may explode, spraying metal fragments and causing serious injuries or fatal injuries. Many vehicles with these unsafe airbags have not been repaired and remain on the road.
Some of the most common malfunctions involve:
Improper airbag deployment ‒Airbags are meant to deploy in a specific way that protects the vehicle occupants from further injury. An airbag that fails to deploy as intended can cause serious injuries.
Minor collisions causing airbag deployment ‒Airbags are designed to deploy in only more serious crashes. When an airbag deploys during a minor collision, it can do more harm than good.
Seat belt failure ‒Seat belts are intended to prevent vehicle occupants from getting the full impact of a deploying airbag. If a seat belt fails, the airbag may not offer the protection it is intended to provide.
Malfunctioning sensor ‒Airbags are triggered by sensors that detect the severity of a collision. A malfunctioning sensor can cause an airbag to deploy in minor collisions, deploy too late, or fail to deploy.
Airbags deploying with too much force:‒ Airbags typically deploy in about 1/20th of a second. This is enough force to seriously injure or kill an occupant sitting too close to the airbag.
If you have been injured because an airbag did not deploy properly, consult an experienced San Antonio personal injury attorney to understand your legal rights.
Types of Airbag Injuries
An airbag that does not deploy properly can cause severe injuries affecting your livelihood and your ability to enjoy life fully. Some of the more common injuries associated with malfunctioning airbags include:
Head and neck injuries ‒Airbags can cause injuries to the upper body, including skull fractures, concussions, whiplash, and spinal cord injuries.
Internal injuries ‒An airbag deploying too quickly when you are in an awkward position can cause internal bleeding and organ damage.
Hearing damage ‒Airbags are loud when they inflate and can cause temporary or permanent hearing loss.
Eye injuries ‒Being hit in the face by an expanding airbag can cause eye injuries, such as corneal abrasions, retinal detachments, and even cataracts.
Cuts and bruises ‒Airbags can cause cuts and bruises to the face and upper torso.
Burns ‒Airbags can cause severe burns to the skin or face when they deploy with too much force.
Legal Help for Airbag Injuries
Depending on the circumstances of your airbag injury, you could have two different routes for pursuing compensation:
Personal injury lawsuit ‒A personal injury lawsuit holds a negligent party responsible for the injuries they caused. If another motorist hit you and you sustained injuries from a properly deployed airbag, you may pursue compensation for those injuries from the negligent driver who caused the collision.
Product liability lawsuit ‒If an airbag injured you because it malfunctioned due to a manufacturing defect or a design flaw, you may pursue a product liability claim against the airbag's manufacturer or designer. A product liability lawsuit seeks to hold the manufacturer responsible for producing and selling a product that does not function as intended, causing injury.
At the Law Offices of Troy A. Brookover, we can help you demand justice. We will:
Investigate the cause of the injury ‒An investigation into what caused the airbag injury will focus on whether a manufacturing defect contributed in any way to your injuries or whether another motorist is at fault.
Gather evidence ‒Evidence is essential to any successful injury claim. We will look for evidence that helps support your claim, including accident reports, medical records, airbag production information, and expert testimony.
Negotiate with insurance companies or at-fault parties ‒Our attorneys can communicate with the at-fault parties and their insurance providers to seek a fair resolution of your claim, giving you space to deal with your injuries and move on with your life.
Representing the injured party in court ‒If the insurer doesn't agree to a fair settlement that covers your losses, we can take them to court and ask the court to award fair compensation for your injuries.
Compensation for Severe Injuries After Airbag Accident
If you were injured because of an airbag deploying improperly or failing to deploy, you might be entitled to compensation for your injuries. This compensation may include money for your:
Current and future medical expenses
Lost wages
Reduced capacity to earn a living
Pain and suffering
Loss of quality of life
Property damage
Statute of Limitations for Airbag Injuries
The statute of limitations for product liability and personal injury cases in Texas allows two years from the date of an injury for filing a lawsuit. In some cases, however, the statute of limitations may be extended. The experienced attorney at The Law Offices of Troy A. Brookover can review the facts of your case and determine the length of time you have to file a lawsuit and protect your rights to a judicial resolution of your case.
Choose An Experienced Airbag Injury Lawyer Near You
A knowledgeable defective airbag injury attorney can make a big difference in your case. If you are looking for a lawyer, attorney Troy A. Brookover has more than 30 years of experience helping clients demand compensation for injuries caused by others.
Call us at 210-941-1515 or fill out our contact form today for a free consultation with our experienced airbag injury lawyer in San Antonio.